About Me
Career
In Summary
I've worked in the IBM i Server world for over twenty years now. Starting as an RPG Trainee Developer in 1989 I have had a number of roles since then. My current job title is Project Manager, though on a day-to-day basis this actually translates into designing and developing software solutions to meet customers' needs and of course not forgetting the all-important support and maintenance of those solutions.
During the time since 1989, as you might imagine, the bulk of my time has been spent on IBM i server solutions but this has by no means been exclusive of other platforms and, although not always in a commercial capacity, I have also developed a number of web sites and web applications using mostly open source technologies.
Skills
RPG IV, RPGLE, and RPG free format

RPG ILE capabilities including subprocedures, service programs and binding
Embedded SQL

Rational Developer for i (RDi v9.1 and v9.5)

Also familiar with PDM, SDA and some RLU

Integrated Web Services for i (IWS)
DB2 for i

System i Navigator SQL scripts
Familiar with System i Navigator SQL Performance Monitors
IBM Data Studio

CL (CLLE)
DDS (PF, LF, PRTF, DSPF)
IBM i server basic work management
IBM EGL
HTML and CSS
Ruby and Rails
Experience
This section lists some of the accounts I have worked with during my time at Chorus. This is not a complete list, I would guess I've worked on projects for more than 50 different accounts in total.
Advanced Health and Care
October 2014 – current
This was an interesting project and very different to the projects I've previously worked on for a number of reasons; a different platform (MS SQL Server), a different application (CareNotes), and a different industry (Healthcare).
I was part of a team that had been given the task of migrating data, for a number of NHS trusts, from their current systems to their new Advanced Health and Care, CareNotes system. I was given the responsibility of managing the data migration for one particular NHS trust, although I also helped out on a few others as project deadlines necessitated.
I've been involved in numerous data migration projects throughout my career but never on this scale; the sheer volume of data was quite staggering. And in terms of timescales I've previously been used to data migration projects taking a few weeks so a project that lasts over a year is certainly an eye-opener.
Not only did the project introduce me to a new platform, etc it also introduced me to working with a larger organisation and the level of planning and discussions that are required for this scale of project. The NHS team I was working with were a great bunch and some really switched on folks.
The CareNotes system I was migrating data to is a web based application over an MS SQL Server database, and the project taught be quite a few new skills not least of which was my SQL skills that are now considerably improved plus the tooling, this was the first time I've used INVALID LINK (ssms) and it is a good bit of kit!
Volvo Group UK Ltd
September 2013 – September 2014
Although Volvo (Truck and Bus) UK have used Chorus for many years, within their dealer network, I became involved in a couple of recent integration projects involving the delivery of some key web services allowing certain information to be extracted from Chorus.
Volvo undertook the project to redevelop the UI over their in-house developed dealer system and needed to retrieve key information from the Chorus accounting system for display and selection within their application.
In discussions and agreement with them I developed six separate web services that allowed them to easily and effectively retrieve data from the Chorus application; data such as analysis codes and payment methods. These web services were implemented using the IBM i Server Integrate Web Services functionality.
St Austell Brewery
September 2005 – present
St Austell Brewery is a family owned brewery founded in 1851 by Walter Hicks in St Austell, Cornwall, England. The brewery's flagship beer is Tribute Ale, which accounts for around 80% of sales. St Austell Brewery is also the South West's leading wholesale supplier to the licensed hospitality sector, delivering beers, lagers, ciders, wines, spirits and soft drinks to nearly 5000 bars, restaurants, hotels, pubs and clubs in South West England.
I was involved pretty much from the start of the sales process with St Austell Brewery, involved in both presentations and question and answer sessions as part of their software solution selection product. As soon as St Austell Brewery chose the Chorus solution I was assigned to manage both the implementation of the solution and the development of additional software that had been identified during the gap analysis phase of the sales process.
Once implemented, I have continued to be involved with the company and tend to be manage the majority of projects relating to the Chorus solution.
Some of the more significant projects I've managed include:
The initial development of a Drinks vertical solution, building on the work already developed for Interbrew UK Ltd
Development of an inter-depot transfer facility integrated with the existing picking, loading and routing modules
Introduce a new 'Available To Promise' system built into the Chorus Drinks solution, allowing the order taker to immediately offer the customer all possible options should the product they order not be available to fulfil.
Implementation and modification of the Chorus Controlled Warehouse solution to meet St Austell Brewery' specific requirements, which include; bulk picking, replenishment locations, and immediate picking
Numerous API's in to the Chorus Drinks solution including; goods receipts, purchase orders and purchase invoices
Integration to a Voice Picking System, providing a feed from Chorus and taking a feed into Chorus once the goods have been picked
Numerous changes to the Chorus Promotion Module
QC Supplies
March 2003 – January 2014
Established in 1993 QC Supplies are a UK based specialist print consumables supplier to the business market. They are an accredited, value-added reseller for all major manufacturers, Brother, Canon, Dell, Epson, HP, Lexmark, Konica Minolta, Kyocera and Samsung to name a few. Part of the Quarry Court Group that supplies across multiple Channels in the UK and European market places, supplying in excess of 18,000 stock lines next day, from our purpose built head office and distribution centre.
QC Supplies were bought by the WestCoast Group in January 2014 at which point they started to move away from the Chorus application suite to the WestCoast Group systems.
Although I was not directly involved in the original implementation of the Chorus application suite (1999) I have/had a long-term and good working relationship with the IT Manager and team. I was their primary point of contact for a large number of projects over the years.
Some of the more significant projects I've managed include:
Integration between Chorus and Talent SupplyNet. This involved the development of parsers and wrappers (in RPG) of XML messages for documents such as orders and invoices. Dealings with various XML message standards; BASDA, cXML and opXML.
Modifications to the integration layer between the Chorus Telesales Module and the EFT product, which allows automatic payment collection via credit and debit cards.
Introduction of multi-lingual product description storage on DB2 to i (UTF-8) specifically to cater for European character sets, such as Polish, for integration with their trade websites.
Interbrew UK Ltd
February 2003 – May 2008
Interbrew UK Ltd was part of the world's largest brewer and then became known as Inbev UK part of the global AB InBev company.
I was involved in the implementation of the Chorus Finance and Distribution across an Irish business unit within Interbrew UK Ltd and that comprised of five separate depots.
The initial implementation involved a number of significant modifications to the Chorus Distribution system. These changes were tailored specifically to the Brewing and Alcohol Distribution industry and eventually gave rise to the Chorus Drinks vertical solution.
Some of the more significant changes include the following projects:
Development of an industry specific pricing and discount solution, which provided (amongst other things) a user-definable retrospective discount solution based on value and/or volume
Development of an Ullage (bad beer) and returns system, tailored to the Drinks industry
Integration to their existing reporting solution, supplying, mapping and manipulating data from the Chorus system.
Integration point from the Chorus Delivery Confirmation entry process
Integration points from the Chorus Delivery Confirmation and Sales Invoice printing processes
Integration between their Chorus solution and EDI VAN
Integration from Chorus to their group JDE solution
Reconomy UK Ltd
August 1999 – present
Reconomy is the UK's market leader in outsourced waste management and recycling services. Their nationwide operations extend to every business sector, helping thousands of companies and other organisations to recycle, process or otherwise dispose of every category of waste in a responsible, eco-friendly and cost-efficient manner.
I was involved right from the 'get go' with Reconomy; from the implementation of the Chorus application suite to the present day. My role these days tends to be development driven where I am generally their first point of contact for any software changes or enhancements.
Reconomy work within an industry where they need to adapt quickly to new legislation surrounding the handling and auditing of waste disposal and as such I also need to react quickly to meet their needs.
Some of the more significant changes include the following projects:
Development of an industry specific contract management system allowing them to capture details from the point of contact with a new customer right through to the management and billing of services
API and Web Service integration with their Customer Portal website, allowing services to be created and updated within the Contract Management System
Numerous integration modifications between the Chorus and Talent CRM systems
One area of the system that is constantly being enhanced to drive out new efficiencies within their business processes is the area of customer billing. A significant system has been designed and developed that allows for extremely flexible and fast selection of services for billing and that caters for both automatic and manual billing.
Integration from Chorus to Talent SupplyNet system, generating XML invoices and Purchase Orders
Integration between Chorus and the PacSol document management system
BRC Ltd
October 1993 – April 2014
BRC Ltd is a leading manufacturer of engineered steel products with a long and successful history of serving the construction, mining and associated industries.
They first implemented the Chorus Finance and Distribution systems in 1993 and at the time they had 12 UK depots that were migrated to the solution. During the 20 years I had dealings with BRC I was involved in over 30 projects.
The original project involved the development of a new Contract Management System that linked in to the Chorus Distribution System.
As a high-level overview the Contract Management System allowed products and prices agreed with the customer to be maintained. The products were defined within the contract management system as a series of steel bar shapes, grades, diameters and lengths. The solution that was designed and developed was very specific to both BRC's and the steel manufacturing industry's needs.
BRC became a member of the Celsa Group and and in the latter years my involvement with them was based predominantly around a number of integration projects between the Chorus Distribution system and their new group SAP system.
Nostalgia
Where did it all begin?
I started on the road to becoming a software developer back in 1980 when I purchased my first home computer, a Sinclair ZX81, whilst still at school. I did all of the normal things you do with computers as a kid; I played games such as 3D Monster Maze, which at the time was cutting edge. In amongst all of the game playing I introduced myself to computer programming with Sinclair BASIC, which started my interest in developing software applications.
Around 1984, and shortly after it's launch, I bought myself an Amstrad CPC - the 464 model - and it was with this computer that I really started getting in to programming. Starting off with the built in BASIC I spent many hours typing in listings from magazines but I soon saw the limitations and so taught Z80 assembler, I even dabbled with CP/M, though mostly out of curiosity.
Zenith Software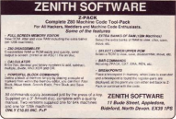 A scanned copy of an advert for Z-Pack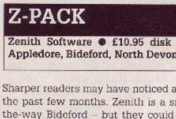 The Amstrad Action Z-Pack review
Around 1987 I decided it was time to take my assembler skills and enter the commercial software arena and so I set myself up as a soul trader using a company name of Zenith Software; I was into 2000AD at the time and they had this character called Zenith.
I managed to produce a single program that went to market, a tool called Z-Pack that allowed you to hack the machines memory and disassemble the machine code into assembler language, amongst other things.
I sold the software application purely as a mail-order purchase, via adverts in the popular (at the time) magazine Amstrad Action. I even sent the application in to the magazine for review and it did OK. But it was a niche offering, a bit too niche, and I managed to sell 13 copies over a four month period, so I was starting to have doubts about the possibilities of making my fortunes with that program.
I had started work on a second product, called Z-Base, that was a database application and positioned as a user-friendly tool for easy storage and retrieval of textual record based data. The product was probably about 60% complete when I decided to pull the plug on the company and seek a software career elsewhere.
In addition to bringing a software program to market I was also very pleased with the manual I wrote and produced for the program, I spent a lot of time perfecting the manual. I also went to the expense of having the manual professionally printed, and it managed to get a mention in the review.